Our team is formed by: Director, Principal, 2 Managers, PA to Director, Chef (with Level 3 Food Hygiene and Level 2 Allergy Awareness), Cleaner, Caretaker, a Qualified Teacher, 2 staff with BA Hons Level 6, an Early Years Teacher, SENCO/BECO Co-ordinators, Room Leaders and Deputy Room Leaders, 6 Level 3 Nursery Practitioners, 2 Level 2 Nursery Practitioners and 3 Nursery Assistants working towards their Level 3, who all work directly with the children and oversee the Nursery on a daily basis.
Pitta Patta also accepts students for placement from local colleges and for work experience from schools.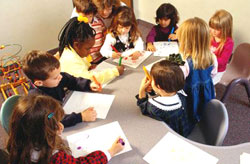 All staff employed by Pitta Patta are fully Disclosure Barring Service (DBS) checked, hold Paediatric First Aid and Safeguarding certificates, along with relevant Child Care qualifications.
Pitta Patta encourages staff to take part in ongoing training, both internal and external, such as NVQ Level 3 in Childcare, various Levels in Leadership and Management and Safeguarding and SENCo.